Guangzhou, abbreviated as "Sui", also known as Yangcheng and Huacheng, is the capital of Guangdong Province, a sub-provincial city, a national central city, and a megacity. It is an important central city, an international trade center and a comprehensive transportation hub in China approved by the State Council. As of 2018, the city has 11 districts with a total area of 7,434 square kilometers, a built-up area of 1,249,11 square kilometers, a permanent population of 15,305,900, and an urbanization rate of 86.46%. Guangzhou is located in the southern part of China, the lower reaches of the Pearl River, and the South China Sea.
It is the headquarters of the Southern China Theater Command, a national logistics hub, a national comprehensive gateway city, the first batch of coastal open cities, and Chinas southern gateway to the world, Guangdong, Hong Kong and Macau. Central cities in the Greater Bay Area, Pan-Pearl River Delta Economic Zone, and hub cities along the Belt and Road.
Guangzhou is the first batch of national historical and cultural cities and the birthplace of Cantonese culture. Since the Qin Dynasty, it has been the political, military, economic, cultural, and scientific and educational center of South China. Since the third century AD, it has become the main port of the Maritime Silk Road, the largest port in China during the Tang and Song Dynasties, the world-famous Oriental Port City, and the only major foreign trade port in China during the Ming and Qing Dynasties.
Guangzhou is rated as the world's first-tier city by the global authority GaWC. The China Import and Export Fair held every year attracts a large number of merchants, a large number of foreign-funded enterprises, and the world's top 500 companies. There are more than 8,700 national high-tech enterprises. It ranks among the top three in the country in total, with 80% of universities and 70% of scientific and technological personnel in the province, and the total number of college students ranking first in the country. The per capita household deposits in Guangzhou rank among the top three in the country, and the per capita disposable income ranks first in the province. Guangzhou's Human Development Index ranks first in China, and the National Central City Index ranks third in China.
◈ Conference Venue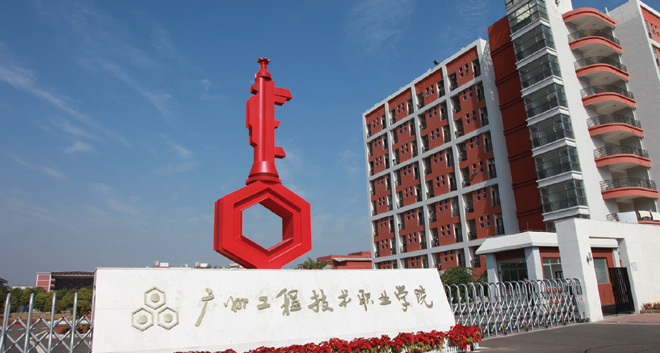 Guangzhou Institute of Technology (hereinafter referred to as GIT) was established in 1964 with the approval of Guangdong Provincial People's Government after registering in the Ministry of Education.GIT boasts complete teaching equipments and infrastructures including laboratories of Computer Network, Electrics and Electronics, Refrigeration, Auto Repair, Language and Art Design, workshops of garment, numerical control, mechanics, auto test and repair and electricians operating room. The teaching staff of GIT has high professional skills and ethics based on rich working experience, and they are working with clear teaching objectives under the management of competitive mechanism.
GIT is mainly involved in vocational education and running education for adults, secondary-specialized diploma education, secondary-specialized vocational education and technical training. It has 8 faculties and teaching divisions including Mechanical and Electronic Engineering Department, Information Engineering Department, Management Engineering Department, Finance Department, Applied Foreign Language Department, School of Art and Design, Petrochemical Engineering Department and System Engineering Department. Guangzhou Federation of Trade Unions Vocational School, Guangzhou Federation of Trade Unions Foreign Language Vocational School and Conghua Technician School which altogether have enrolled 6,179 students are under the management of GIT. There are 6,945 full-time students and 2,261 on-job students. In terms of employment rate of graduates, GIT ranked high among the colleges and universities of Guangdong Province. In 2010, 99.65 percent of GIT graduates found their jobs.
Following the principle of cultivating excellent graduates, teaching in GIT focuses on improvement of students' morality, basic skills, cultivation of art, specialized courses, career training, practical training, scholarship and grants, and course review for entering a higher school. GIT has been exploring her way of cultivating graduates best catering to the need of society in the most appropriate manner.
Contact Person: Ms. Lu
E-mail: contact@icceia-vr.org
Mobile: 86-13922150274
Address: No.465, Huanshi East Road, Guangzhou, China